06-11 & 12-15 Honda Civic Si EM1 Nissin CMC & Stainless Steel Clutch Line Upgrade
06-11 & 12-15 Honda Civic Si EM1 Nissin CMC & Stainless Steel Clutch Line Upgrade
Product Description
HARDmotion K-Series EM1 CMC & HD Slave Kit V2.0 "2nd gear grind fix"
The HARDmotion 06-11 / 12-15 Civic Si & Acura RSX EM1 CMC & Stainless steel clutch line kit. The kit starts with a OEM Nissin EM1 CMC, the reason for this unit is two things. One the nissin em1 is the most prooven and reliable cmc you can install on your car. They last and wont fail on you like other units can. Two it doesnt have any delay valves built into it and thats the core reason for switching to this unit. This allows the clutch pedal to engage and disengage the transmission at the optimal speed so grinding wont incur. The CMC is then fitted to our upgraded stainless steel clutch line and that comes with all fittings needed to adapt the line. This clutch line is also a step above most with a stainless steel clutch line, that is a heavy duty unit thats built to last along with a rubber coating (to prevent dirt from the engine bay getting into an exposed steel wrap and wearing it or bursting it).

Finally we round out our kit with the new HARDmotion Slave Cylinder, this is the final piece to the puzzle of fixing any grind issues. The main piece that connects to the transmission is the slave. As our vehicles age the stock cmc and slave become worn and need replacing and they dont function as well. Thats why we now suggest getting our upgraded k-series slave cylinder. This unit not only is built to last as well but doesnt contain any delay valves. Yet again the main purpose of any hope of fixing your shift is removing the delay valves. This unit was built totally with that and mind and was built without any delay valve. Upgraded all around for performance.

With all of this combined you will enjoy proper shifting, engagement and release of the clutch, even under high rpm aggressive driving where it really counts. Not only that but this helps protect your transmission and synchros.
"If you are grinding any gears, having difficulty shifting, slow shifts or get completely locked out during a high rpm shift. This is the solution." -- HARDmotion Team
How does it work? The factory has two delay valves in the cmc and the slave. We use a cmc and slave that are high quality long lasting and that do not contain these delay valves. The delay valves in the oem units are built to make the clutch pedal less dramatic when it grabs. The drawback is the transmission and clutch do not disconnect fast enough at high rpm with the oem units and you get a grind. With our upgraded units as a system it allows the clutch to disengage properly and quickly (just like honda used to make it) why we are using a em1 cmc and our own slave unit which are built to function properly and alleviate the grinding issue and increase the overall performance and feel. These units once installed made a dramatic difference on every car we have tested it in personally. We have dealerships who use this on customer cars and honda certified master techs who also agree this solution works. We have sold over 300+ units and we constantly get recommendations as the best kit out.
Why choose our kit over others? Our kit is way more affordable than our competitors and comes with the same if not better parts + free shipping. Your saving over $50 dollars and getting a higher quality SS line at the same time and you get the proper parts and slave that complete the system as a whole. The problem is most people just do the CMC only, when the slave is the actual final piece that connects to the trans. If one or the other isnt working and isnt working fast you will get grinds. The other reason to choose our kits, is they just dont fail. They just literally dont and we guarantee and back it with a no hassle warranty.
We guarantee it will work!: You wont find this anywhere else and backed with a satisfaction guarantee. If it doesnt work, we will refund your money in full.
Overview:
1. Nissin EM1 CMC (clutch master cylinder)
2. Heavy Duty Rubber Coated Stainless Line & Specialized Fittings
3. HARDmotion HD Slave Cylinder (optional & highly recommended)
Q & A:
1. Does this fix second gear lockout, misshifts or high rpm shift grind? YES!
2. Is everything included for the swap? Yes, every fitting, line and part is included in this kit.
3. Do you ship to canada and puerto rico? Yes we do, FREE Shipping.
4. Does this help protect the transmission? Yes this helps protect your synchros from getting damaged!
5. Is this a must have modification? In our opinion yes every single k-series motor that has issues shifting should swap over to prevent major mechanical damage.
For install instructions & help. Please scroll down below for information and pointers.
Fitment:
8th gen Civic: 2006 2007 2008 2009 2010 2011 Civic Si
9th gen Civic: 2012 2013 2014 2015 Civic Si
Acura RSX: 2002 2003 2004 2005 2005 Base & Type-S (manual)
Acura TSX (Manual)
Installation Help: The EM1 CMC basics you need to know.
1. The HARDmotion EM1 clutch master cylinder (cmc) needs to be taken apart. From there upon uninstalling your stock CMC.
2. Take apart your your stock clutch master cylinder internals inside the HARDmotion em1 housing.
3. Swap over most importantly the rod from your oem cmc to the HARDmotion em1 cmc. View diagram below.
4. Here is a diagram below on one way to install the guts of the new HARDmotion EM1 CMC. You are swapping the rod, nut and bracket over.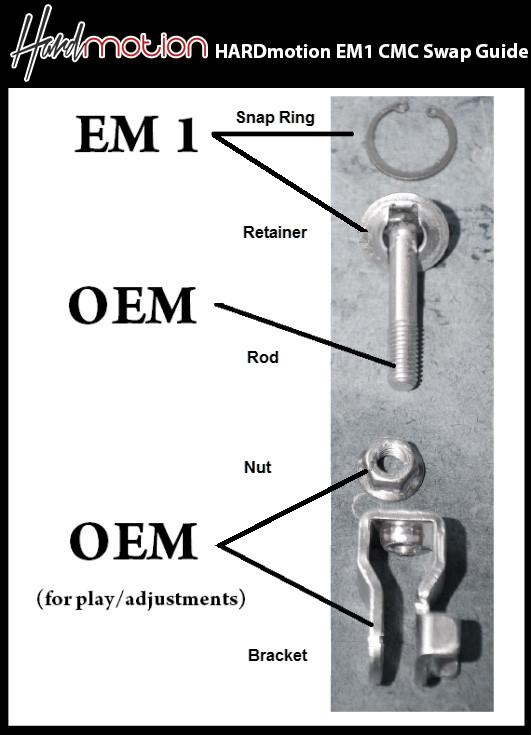 5. Once your new HARDmotion CMC is assembled. Reinstall into vehicle.
6. Stainless line will attach to the EM1 Via the right angle, the other straight line connection goes to the slave unit.
7. Bleeding. You are receiving a dry brand new nissin CMC, the same that honda uses for the OEM vehicles. You may have trouble bleeding or getting pedal pressure the first time. What you need to do which a lot of people are successful with is "bench bleed" the cmc.
This information is all over the internet with videos and tutorials on how to do so. Another method is using a vaccum bleeder.
8. Once complete test free play and ensure that there is about 1 inch of freeplay. Freeplay is the pressureless zone of the clutch pedal to where its easy to press down before it starts to stiffen where engagement starts. This is important so your clutch can properly disengage.
How hard is it?: Everyone has been able to install this item themselves. It can take from 1-2 hours if proper preparation and bleeding is done.
Final Notes: Be sure to watch youtube for diys on this mod, even videos. Simply searching "diy em1 cmc install" usually pulls up lots of pages which will help assist you.
We know there are many ways to go about it, so we allow you to find what works best for you. Just be sure to take your time with understanding and bleeding the system and knowing to swap the internals beforehand. This job is very similiar to a cmc and slave install and reinstall. Also the stainless line makes it easier to install.

FREE SHIPPING USA 50 STATES / CANADA AND PUERTO RICO
Product Reviews
Write Review
Showing reviews 1-10 of 22 | Next
perfect!

Posted by Alex Jaouni on Jul 19th 2018

Ever since installing this cmc my car has had no issues at all!! Highly recommend ordering this along with the slave cylinder.

Awesome!

Posted by Jeremiah Sanchez on Apr 23rd 2018

The 99-00 SI CMC is an awesome upgrade to get for your 8th gen civics, I recommend getting the hard motion slave with it as well, since installation I have not grinded a single gear! installation is a pain but well worth it! My civic is my daily I live in a city where my commute is 45 minutes of stop and go traffic and I have not lost any pressure. Pedal feel is great no complaints at all!
So job well done by HARDMOTION, This is a must if you plan on building or even do some spirited driving on the weekends!

great kit

Posted by Noah Pollack on Mar 28th 2018

working great so far. much better clutch engagement etc. feels stiffy and pedal doesn't wobble anymore.

Great Product!

Posted by Unknown on Feb 6th 2018

Seriously helps out when you need to change out the parts you need, couldn't be happier with the outcome! You won't regret it! Installed it on my 08 SI and it works great!

A must have upgrade

Posted by Unknown on Jan 14th 2018

If you "enjoy" driving a stick shift, then I highly recommend this upgrade. With this upgrade, I think I've realized why the factory clutch is so high up (9th gen Si) (to allow more clearance and time for the delay to kick in). Now I can adjust the clutch to grab lower and not worry about grinds. This was my first time replacing and bleeding a CMC and found that removing the old one was tricky. I ended up cutting the factory hardline in two places and just ripping it out. I've also learned to just bleed it by leaving the Slave unmounted for easier access to the valve from under the car (since the new setup has a straight hose connected from the CMC). I successfully pumped the fluid with a bug spray nozzle connected to a siphon hose :) Improvision. Thank you HardMotion for this excellent product!

cmc and slave

Posted by tiger sayavong on Jan 11th 2018

recently my slave went out due to a splice cut on the line and figured why it wasnt going into gears checked that out after replacing it with oem 9 months ago i have a stage 1 exedy clutch and all but to the point after install it made a huge difference in all shifting and releasing from gears no grinds or hard to get in gears the bleeding part was tricky but ended up getting it with a bleeder lol overall im satisfied and anyone who needs a replace should recommend this i will be coming here to get this and any other products. great job guys.

Highly recommend

Posted by Unknown on Jan 10th 2018

my 8th gen Si went through 3 cmc's and 2 slaves cylinders in the past 3 months and was to a point of giving up and selling the damn car. The delays on the oem are trash, especially when shifting at high RPM's while doing daily pulls. With the OEM set up, my pedal would feel softer and softer when banging through gears quick 2nd gear was tricky to get into. Some gears would grind but after installing the EM1, you could instantly feel the difference. The only hard part about the installation, was getting the part at a right angle due to little amount of space to work in on the small engine bay and also replacing the rod, bracket, nut, and retainer from the OEM to the EM1 due to my OEM not having a snap ring. Other than that, everything was easy and car was ready to go.

5 outta 5

Posted by Shayne on Dec 17th 2017

Just installed this kit with the slave cylinder last night. Definitely corrected the problem I was having. The clutch peddle was soft and felt spongy. It was slow to come back up while shifting making it impossible to quick shift. You can really feel the clutch now and it snaps back when I push it in. Install only took 2.5 hours. Hardest part was getting the new master cylinder back in. Oh, and shipping was faster than expected. Will definitely buy from this company again!

shifts like a hot knife thru a stick of butter!!!

Posted by Frankie on Dec 7th 2017

I was having an issues sliding it into gear during cold starts and even with the car fully warmed up it was notchy during shifts. While at stop lights I'd have to force it into first from time to time and it was beginning to be annoying. Was thinking of going with the K Tuned cmc and slave till a buddy of mine told me to just get the kit Hardmotion had. I can't thank him enough. Took me roughly and hour to install and now my ride shifts like butter. Messed around and speed shifted from 1st ripping thru gears all the way thru 4th with no problem whatsoever. I highly recommend this to anyone having issues with their stock cmc and slave cylinders!

I can shift again !

Posted by Adrian Blanco on Nov 21st 2017

Easy install and great product my car no longer grinds . Recomend with the slave as well
Showing reviews 1-10 of 22 | Next
Find Similar Products by Category